structures of light and spruce
structures of light and spruce, the portrait CD with five of Malin Bång's chamber works, is released by NEOS and with stunning performances by Curious Chamber Players, Umeduo and Karin Hellqvist, masterly recorded and mixed by Linus Andersson and Tomas Hulenvik at Element Studios.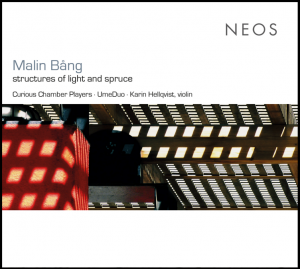 structures of light and spruce has been awarded the "Preis der deutschen Schallplattenkritik – Bestenliste 4/2018".
ongoing works
Shinai Hara for string orchestra and dance, in collaboration with choreographer Noah Hellwig, is based on the movement patterns in the martial arts kendo and aikido. Premiere tour with Musica Vitae in southern Sweden in November 2019.
Three tunnels in Norway, chosen by the percussionists in Pinquins, generate the sound world and the performance tools for underpassing – a new percussion trio with Swedish premieres on October 24th in Göteborg and on November 23rd in Stockholm.
A new work for Gageego is focusing on the acoustics of childhood. How does one's surrounding sound world while growing up infuse modes of composing and choices of acoustic reliefs? Malin Bång revisits Sävedalen, in the midst of the highway and railway noise, the ice cream factory fan air flow and the compact steam of the garbage station.
seminars and workshops
Malin Bång is senior lecturer in composition at Gothenburg Academy of Music and Drama
More info: Master Programme, Bachelor Programme
November 29th: CCP Composition workshop – HSM, Göteborg
October 25th – 26th: Performance workshop with Ghent Advanced Master Ensemble
October 24th: Composition Seminar and Masterclass at Royal Conservatory, Ghent
October 1st: Reflective Artist Series – seminar and workshop at HSM, Göteborg
September 27th: Seminar on the work Bloomers at Encounters Film Festival, Bristol
August 4th – 11th: Kalv Composition Academy