News
Malin Bång is portrayed with three works at the new exciting festival NordicConTempo in Berlin: UmeDuo performs Arching, KNM performs Palinode and Adapter performs Hyperoxic. In Kulturbrauerei September 21st – 22nd.
structures of light and spruce, the portrait CD with five of Malin Bång's chamber works, is now released by NEOS and with stunning performances by Curious Chamber Players, Umeduo and Karin Hellqvist, masterly recorded and mixed by Linus Andersson and Tomas Hulenvik at Element Studios.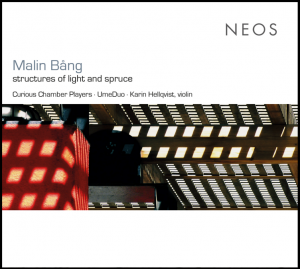 Ongoing works
The relation between the individual and the ongoing political development is explored in a large orchestral work commissioned by the Donaueschinger Musiktage 2018. Read more -›
The unstable future of the planet is in focus in Malin Bång's new work for flute quartet 40F: "Salt alters all that remains. It shapes pebbles and eternal thirst…"
A sewing factory outside Huddersfield is the starting point for a new work in collaboration with animation artist Samantha Moore and Klangforum Wien. World premiere at Eclat in February 2019.
Three tunnels in Norway, chosen by the percussionists in Pinquins, will generate the sound world and the performance tools for a new percussion trio with premiere in February 2019.
Audio / Video
Jasmonate – video from the world premiere at Konserthuset, Stockholm, by Curious Chamber Players.