structures of light and spruce
structures of light and spruce, the portrait CD with five of Malin Bång's chamber works, is released by NEOS and with stunning performances by Curious Chamber Players, Umeduo and Karin Hellqvist, masterly recorded and mixed by Linus Andersson and Tomas Hulenvik at Element Studios.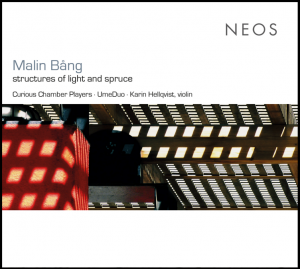 structures of light and spruce has been awarded the "Preis der deutschen Schallplattenkritik – Bestenliste 4/2018".
seminars and workshops
Malin Bång is senior lecturer in composition at Gothenburg Academy of Music and Drama
More info: Master Programme, Bachelor Programme
September 2020: start of new Master Program at HSM, Göteborg: Experimental Composition and Creation
We welcome a group of seven students, who will all develop their personal artistic path. The four semesters have different points of focus: mapping the field, method experimentation, collective collaboration processes and individual projects.
July 2021: The 2020 year's edition of Darmstädter Ferienkurse is postponed to 2021. Malin Bång is part of the team of tutors, teaching in the workshop "Strings and Objects", and the workshop "Voice and Accordion" and in individual meetings with composition students. Read more and sign up!